Hong Kong has today (May 1) unveiled to the world the logo of its revitalised city brand - a refreshed dragon icon - at the World Exposition 2010 Shanghai China (Shanghai Expo).
Speaking at the opening ceremony of the Hong Kong Pavilion at Shanghai Expo, the Chief Executive of the Hong Kong Special Administrative Region (HKSAR), Mr Donald Tsang, said the world would see the revitalised Brand Hong Kong (BrandHK) and the five core values it represents through Hong Kong's participation in Expo. "We will show the world that Hong Kong is an open and tolerant modern metropolis with great potential and opportunities for future development," he said.
The revitalised BrandHK was officially launched in Hong Kong on March 27 this year. Since then, the rejuvenated brand's visual identity has been seen around the city, adorning its double-decker buses and historic trams, and even the world famous Star Ferry.
Brand Hong Kong's new colours decorate a city tram.
A Star Ferry in Brand Hong Kong's new livery adds a splash of colour to Victoria Harbour.
During Shanghai Expo, visitors to the Hong Kong Pavilion and Hong Kong's Urban Best Practices Area (UBPA) Exhibition will be able to get an "up close" look at the new logo and learn more about what makes Hong Kong such a dynamic and diverse place to live, work and visit.
Visitors to the Hong Kong Pavilion at Shanghai World Expo are greeted by Brand Hong Kong.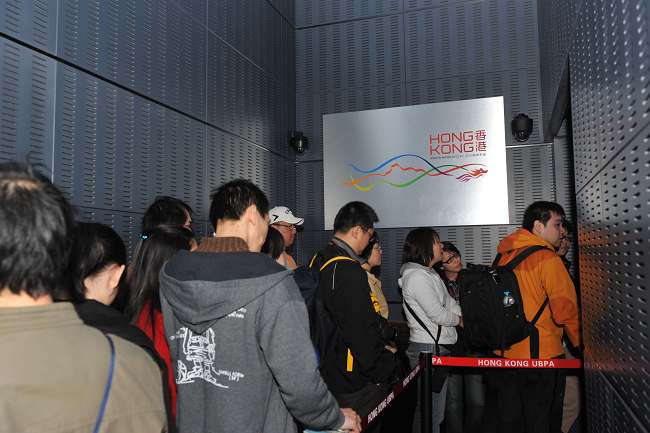 Hong Kong's Urban Best Practices Area Exhibition at the Shanghai Expo also features Brand Hong Kong.
The new logo, created by internationally renowned designer Alan Chan, adds a dash of colour and a contemporary touch to Hong Kong's original dragon icon - in the form of three ribbons. The blue and green ribbons represent blue sky and a sustainable environment. The red ribbon evokes the ridge line of Lion Rock - a local mountain steeped in folklore that embodies the "can-do" spirit of the Hong Kong people.
Brand Hong Kong's revitalised visual identity
This is the first revitalisation exercise since BrandHK was launched in May 2001. The brand has since become an effective communications platform for promoting Hong Kong internationally. To keep up with the changing times, a thorough review of the brand was undertaken in 2008-09.
After widespread public engagement, the review found that Hong Kong people cherish and aspire to five main core values, namely: Free, Enterprising, Excellence, Innovative and Quality Living.
Of these, Quality Living, which embraces local people's aspiration for a healthy work-life balance, a green environment and nature and heritage conservation, is a new core value.
In parallel, Hong Kong's most widely perceived attributes are described as: Cosmopolitan, Secure, Connected, Diverse and Dynamic.
Hong Kong's positioning - "Asia's world city" - remains unchanged.
"From now on, we will not only promote Hong Kong as a premier international business and financial centre but also as an interesting and diverse city rich in cultural and natural heritage," an HKSAR Government spokesman said.
He noted that the revised core values and attributes of BrandHK are reflected in the Hong Kong Pavilion, which showcases Hong Kong's connectivity and creativity under the theme "Hong Kong - Potential Unlimited."
Brand Hong Kong's core values and attributes are reflected in the Hong Kong Pavilion at Shanghai World Expo.
Foremost in the Government's new marketing strategy to underscore the brand's revitalisation is the "Faces of Hong Kong" campaign, which seeks to convey to the world the city's dynamism, enterprising spirit and friendliness through the faces and real life tales of local people, he added.
To meet the many faces of Hong Kong, the global audience is invited to visit www.facesofhongkong.com and learn about local people and listen to their stories. A promotional video based on the same theme is being shown worldwide.
Those interested in finding out more about Asia's world city - its diversity, blend of East and West, old and new - are urged to click onto the new interactive BrandHK website www.brandhk.gov.hk or browse through a "This is Hong Kong" booklet, available at
www.brandhk.gov.hk/en/facts/publications/thisishongkong.html
Contact:
Information Services Department
Hong Kong Special Administrative Region
Fanny Hui
Tel: (852) 2842 8849